Surprise for the bachelorette
Throw a ball on the bachelorette hanged on a giant dartboard. It will take some time to her to forget this party! This surprise is included in the price of foot darts activity.
Price: 379 CZK / person
Get ready for some fun. The bachelorette will be thinking that she is about to jump from a bridge, but instead she will fall into a cold swimming pool! Take a look on our video.
Price: 3 000 CZK
Let the future bride try some flying at high speed! Our slingshot will serve perfectly for this purpose.
Price: 1 500 CZK/person
Alcohol is a part of every good party. At the bar it can be a bit boring though, that is why we organize giant beer pong in a version for ladies - prosecco pong!
Price: 279 CZK/ person, 1 bottle / 6 people
Amazing activity for everybody which is way more entertaining than the version you might know from the pubs. Teamwork is a key to success. And spinning is allowed!
Price: 339 CZK/ person
Bubble football can be a great fun even for girls. Let of some steam in the bodyzorbing balls!
Price: Depending on number of bubbles, more information here.
Brand new entertainment, in which you will eliminate your enemies with a weapon of medieval warriors - bow. Battle in teams and find out who is the best archer!
Price: 499 CZK / person
The bachelorette will get some nice costume first (costumes of minion, rabbit, pikachu, pig and more are available). Then you will play some nice paintball scenarios! Ladies, you get a protection vest for free.
Price: 479 CZK / person (100 paint-balls included)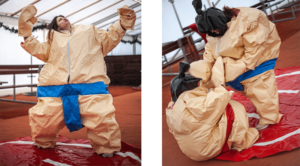 Fight amongst each other in sumo suits! Pure fun with safety secured.
Price: 1 990 CZK / 1 hour
Book two or more activities and get a package discount for your hen party!
Action & Fun Explorer's package
2 activities -> 4 % package discount *
1 drink included (Prossecco or water)
Absolute Action package
3 or more activities -> 8 % package discount *
2 drinks included (Prossecco or water)
* The discount is calculated from the price of each activity in the package.
Take a break from the activities and have grilled chicken BBQ with bread, sauce, vegetables and draft beer.
Price: 200 CZK
Need transport to Action Park? Click on the link below and find out more.